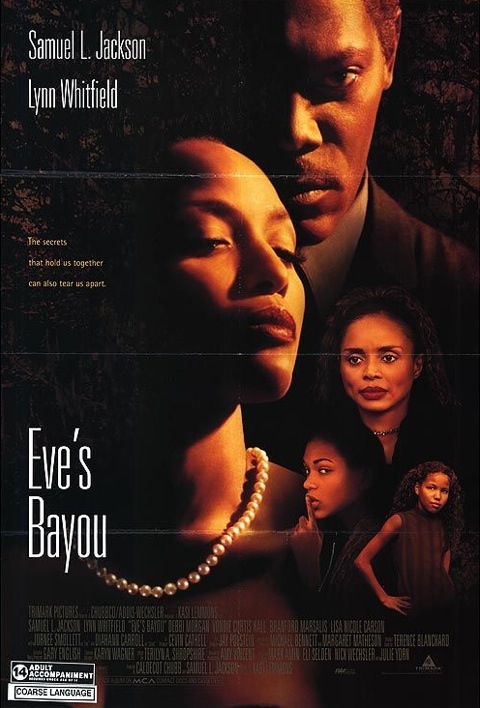 SYNOPSIS: "The story is set in 1962 Louisiana. The Batiste family is headed by charming doctor Louis. Though he is married to beautiful Roz, he has a weakness for attractive female patients. One night Louis trysts with married and sexy Metty Mereaux, not knowing that he is observed by his youngest daughter Eve, who is there by accident. Eve can not forget the traumatic incident and shares a secret with older sister Cisely. Lies start to roll." Synopsis source: IMDB.com
Story Dynamics
8 of the 12 essential questions

Main Character Resolve: Steadfast
Eve maintains his essential nature while attempting to solve the story's problem.

Main Character Growth: Start
regarding Eve, the audience is waiting for something to start.

Main Character Approach: Be-er
Eve prefers a mental solution to his problem.

Main Character Problem-Solving Style: Holistic
Eve uses holistic problem-solving techniques.

Story Driver: Action
In terms of the overall plot, actions force decisions to be made.

Story Limit: Optionlock
The story climax occurs because all options have been exhausted.

Story Outcome: Failure
In terms of the overall plot, the original goal is not achieved.

Story Judgment: Bad


Eve ultimately fails in resolving his personal problems.
Overall Story Throughline
Growing Up in a Fractured Family
Overall Story Throughline: Physics
Overall Story Concern: Understanding
Overall Story Issue: Interpretation vs. Senses
Overall Story Problem: Inequity
Overall Story Solution: Equity
Overall Story Symptom: Order
Overall Story Response: Chaos
Overall Story Catalyst: Senses
Overall Story Inhibitor: Fate
Overall Story Benchmark: Doing
Overall Story Signpost 1: Understanding
Overall Story Signpost 2: Doing
Overall Story Signpost 3: Obtaining
Overall Story Signpost 4: Learning

Main Character Throughline
Eve
Main Character Throughline: Mind
Main Character Concern: Memory
Main Character Issue: Suspicion vs. Evidence
Main Character Problem: Change
Main Character Solution: Inertia
Main Character Symptom: Order
Main Character Response: Chaos
Main Character Unique Ability: Evidence
Main Character Critical Flaw: State of Being
Main Character Benchmark: Preconscious
Main Character Signpost 1: Memory
Main Character Signpost 2: Conscious
Main Character Signpost 3: Preconscious
Main Character Signpost 4: Subconscious

Influence Character Throughline
Sister Cisely/Aunt Mozelle
Influence Character Throughline: Universe
Influence Character Concern: Past
Influence Character Issue: Interdiction vs. Prediction
Influence Character Problem: Inequity
Influence Character Solution: Equity
Influence Character Symptom: Ability
Influence Character Response: Desire
Influence Character Unique Ability: Prediction
Influence Character Critical Flaw: Instinct
Influence Character Benchmark: Progress
Influence Character Signpost 1: Past
Influence Character Signpost 2: Progress
Influence Character Signpost 3: Future
Influence Character Signpost 4: Present

Relationship Story Throughline
Differing Views of Paternal Infidelity & Life
Relationship Story Throughline: Psychology
Relationship Story Concern: Conceptualizing
Relationship Story Issue: Circumstances vs. Situation
Relationship Story Problem: Inequity
Relationship Story Solution: Equity
Relationship Story Symptom: Aware
Relationship Story Response: Ability
Relationship Story Catalyst: Situation
Relationship Story Inhibitor: Truth
Relationship Story Benchmark: Being
Relationship Story Signpost 1: Conceptualizing
Relationship Story Signpost 2: Being
Relationship Story Signpost 3: Becoming
Relationship Story Signpost 4: Conceiving

Addditional Story Points
Key Structural Appreciations
Overall Story Goal: Understanding
Overall Story Consequence: Conceptualizing
Overall Story Cost: Past
Overall Story Dividend: Memory
Overall Story Requirements: Doing
Overall Story Prerequisites: Being
Overall Story Preconditions: Progress
Overall Story Forewarnings: Preconscious

Plot Progression Visualizations
Dynamic Act Schematics
OS:

MC:

IC:

RS: